Mar 3rd, 2013
Interfaith Adult and Young Adult Tour
Date: Mar 03, 2013
Time: 1:00 - 5:30 PM
Price: $15 Per Person
Register OnlineLocation:
1540 NE 50th St., Oklahoma City, OK 73111
Share:
CAIR Oklahoma is a proud supporter of the interfaith tours conducted by the Oklahoma Conference of Churches.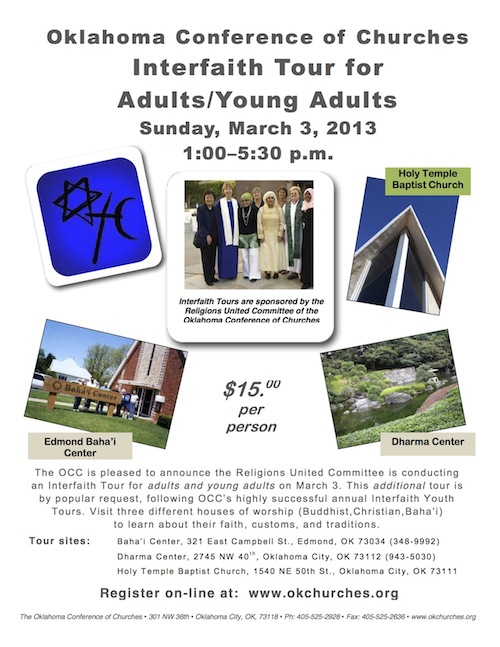 ​The Oklahoma Conference of Churches is conducting an Interfaith Tour for adults & young adults on March 3, 2013. The tour will visit three different houses of worship: The Baha'i Center of Edmond, The Dharma Buddhist Center, and Holy Temple Baptist Church. Transportation will be provided. The tour begins at Holy Temple Baptist Church located at 1540 NE 50th Street in Oklahoma City. Check-in begins at 1:00 pm. The tour will be completed by 5:30 after returning to Holy Temple Baptist. Groups are encouraged to attend. For individual registration and payment ($15 per person), complete the online registration form below. For group reservations, contact the OCC office.